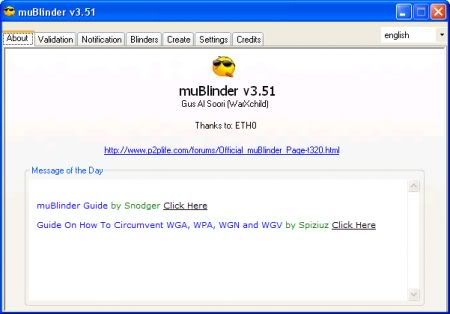 muBlinder ( Microsoft Update Blinder ) is an application that bypasses Microsoft Update's Genuine Windows Validation and allows you to view, choose and install all available updates in addition to downloading programs off of the Microsoft Download Center. Incase you have installed the Genuine Windows Notification update muBlinder allows you to get rid of those nagging popups.
In addition, muBlinder can help you install applications that contain WGA protection with the use of external blinders, (plugin patches), stored on our server. You can even create and upload your blinders for others to use!
muBlinder does not need to be installed on your computer. It can even be placed on, and run from, a floppy disk or flash memory stick.
muBlinder Changes 3.51 (28-Oct-2007):
* Works with MS Update 1.7.59.0 (1.7.0059.0)
* Both Microsoft Update AND Microsoft Download Center are working.
* Fixed: Cosmetic bug, black background on credits in some XP Themes.
Homepage
Download
(1.13 MB)
Password:
www.softarchive.net